Multiprotocol-Ethernet

Wat zijn de voordelen van Industrial Ethernet?
Industrial Ethernet maakt gebruik van technieken op basis van de traditionele kantoorcommunicatie- en automatiseringssystemen waarbij het geschikt is gemaakt voor industriële applicaties. Industrial Ethernet faciliteert dataoverdracht op de werkvloer van een fabriek alsmede dataoverdracht tussen fabrieken wereldwijd, via veilige netwerkaansluitingen.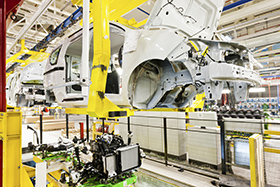 Wat is Multiprotocol?
Turck biedt een compleet programma aan van Industrial Ethernet producten voor gebruik direct in het veld of in de schakelkast met block I/O-modules of modulaire I/O-systemen. De multiprotocol-technologie van Turck is een nieuwe innovatieve benadering van decentrale Ethernet I/O's. Multiprotocol I/O apparaten configureren zichzelf automatisch op het aangesloten actieve veldbusprotocol bij elke opstart (power-up). De ondersteunde protocollen zijn Modbus TCP, EtherNet/IP™ en PROFINET.
Multiprotocol-producten zijn simpel en intuïtief en maken het mogelijk om zich aan te passen aan een verandering van het industrial Ethernet protocol zonder het fysiek uitwisselen van onderdelen. Een geavanceerde webserver is geïntegreerd in alle Turck multiprotocol-apparaten en faciliteert eenvoudige apparaat configuratie en diagnose via de web-browser. Verder zijn een grote hoeveelheid geavanceerde eigenschappen voor elk ondersteunend protocol aanwezig in het apparaat om aan vele unieke applicatie eisen te voldoen.
Turck's multiprotocol technologie maakt het omzetten van het ene industrial Ethernet protocol naar het andere plug-in simpel. Turck's multiprotocol producten bieden een naadloze omzetting van industrial Ethernet, welk industrial Ethernet protocol het ook mag zijn.