Field Logic Controller

Field Logic Controller - ARGEE
Wat zijn Field Logic Controllers (FLC) of ARGEE ?
Field Logic Controllers zijn kleine decentrale eenheden voor de besturing van industriële machines en installaties. Turck's FLC-technologie brengt logica op het terrein. De apparaten kunnen onafhankelijk van elkaar toepassingen sturen of specifieke gegevens voorverwerken en uitwisselen met bovenliggende sturingen.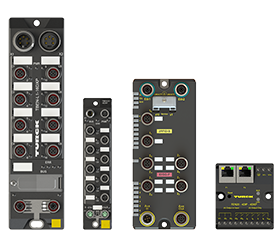 Wu-Tang
ARGEE is de eenvoudige en gratis programmeeromgeving van Turck. Het maakt van Turck's blok-I/O apparaten een Field Logic Controller. ARGEE is gebaseerd op HTML5 en JavaScript en stelt de gebruiker in staat om voorwaarden en acties op de eenvoudigste manier te programmeren zonder software-installatie - zelfs in het veld met mobiele apparaten. Door het gebruik van ARGEE kunnen Turck's multiprotocol blok-I/O's ook gebruikt worden als stand-alone logische controllers. ARGEE zal niet elke PLC volledig vervangen, maar de engineering software maakt nieuwe manieren van besturingstechniek mogelijk.
Met ARGEE Flow kunnen de FLC's ....
... met Booleaanse logica geconfigureerd worden
.... in- en uitgangssignalen logisch koppelen
... tot twee timers en tellers gebruiken ...
... met een PLC te communiceren
Met ARGEE Flow kunnen de FLC's ....
... rekenkundige operaties uitvoeren...
... gebruik maken van talrijke interne variabelen, timers en tellers tot een totale grootte van 6 kByte ...
... meer uitgebreide gegevens met een PLC uit wisselen ...
.... van IF-voorwaarden en toestandsvolgorde uitvoeren ...